The now 1 billion users strong social platform, Instagram, has a new feature that may take large pieces of YouTube's pie. On June 20th, 2018 Instagram announced the launch of IGTV. IGTV allows creators to upload and share videos up to an hour in length, users create their own channels, and Instagram plans to let creators monetize their channels in the future. This exciting new feature of the Instagram experience creates opportunity for businesses, how can IGTV help grow your brand?
Kevin Systrom, CEO of Instagram, on stage at the June 20th launch event in San Francisco stated "It's time for video to move forward and evolve." IGTV videos are optimized for mobile viewers by playing videos in a vertical format and is accessible in the Instagram app and as a standalone IGTV app for both iPhone and Android users.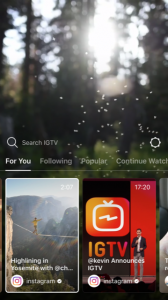 Unlike previous Instagram video features, where length was limited to 1 minute or less, IGTV videos can be up to 1 hour in length. Allowing for longer videos gives creators more freedom and means a lot more time can be spent consuming content and keeping users in the app. There are currently no ads in IGTV but Systrom says that down the road they'd like to help creators monetize IGTV and that they recognize the premium opportunity for ads in IGTV. Viewers can comment on, heart, and even share IGTV videos with other Instagram users. In IGTV you can browse videos categorized in tags labeled "For You" including videos Instagram believes you'll enjoy, "Following" showing videos from creators you follow in Instagram, "Popular" which is trending videos, and "Continue Watching" where you can watch videos you've previously started. There is also a search bar where users can search for creator's channels, currently hashtag search is not included in this search tool.
If you're already on Instagram you can easily create your IGTV channel simply by clicking the new IGTV logo, a tv with a line through it, in your Instagram app in the top right corner of the newsfeed tab or by downloading the IGTV app. Click to create a channel and then you're ready to start posting content! Content is made in advance and then uploaded, currently video cannot be shot in IGTV itself.
As Instagram is now up to 1 billion users IGTV has a huge opportunity for growth and gives marketers a huge opportunity too! With IGTV brands and businesses can showcase more about themselves and captivate their audiences for longer periods of time. Imagine a spa allowing you to watch a full treatment as they explain the benefits, or watching a full-length interview in Instagram. IGTV videos can also be shared to a connected Facebook page when posting allowing the content to go even farther. Creators can also include links in video descriptions to out of app websites. (As you know, you still can't put links in your IG posts, but you can on your IGTV videos.)
Videos have been a growing trend in social media for some time now, so if you're not creating video content yet it's time to start! Video content allows your audience to get to know your brand better and if your content is engaging enough they'll keep coming back for more!
We'd love to hear your comments and questions below!
As always, if you need help with any of your online marketing, we're just a click away.