Create Video Content with Confidence
Lights… Camera… FREEZE! 
You know the feeling. You're all set to record your AH-MAZING video content and as soon as you start recording, you've got…nothing! You forget your lines, you don't know where to put your hands, you don't like your clothes, your voice sounds weird, and you hit stop on that recorder with a sigh. 
Don't fret! It happens to all of us. Yes, sometimes, even me! Crazy, right?! Cameras can be intimidating. And that makes it all too tempting to go back to your plain static posts on social media: memes, re-shares, quotes, and promotions. You think to yourself, "Maybe I'll try again later, or tomorrow, or maybe…never." 
You know that's not what your social media marketing needs, but videos make your stomach queasy. And when that recording light is blinking you just want to run away. WAIT! Don't lace up your joggers just yet. There's still hope for the camera shy biz owner in the midst of this short-form-video-content craze brought on by the TikTok and IG Reels frenzy. Here's why you should stick it out:
Why Should You Use Video Content?
When creating video is your least favorite thing to do, it's easy to find yourself asking questions like—Do you really need video marketing? Can't you just keep on posting quotes and memes for your business page? Isn't this video craze just a trend? Afterall, your usual posts are doing "fine". 
Sure, you can just keep on keeping on with your memes…
But do you settle for "fine" in any other area of your biz? Did you hire an "okay" COO?  Do you provide your clients with a product or service that's "good enough"?  Of course not!  You strive for excellence in those areas and you expect high-quality results.  You shouldn't expect any less from your social media marketing strategy. Especially if you're on a mission to scale your business to the next level? (6 figures, anyone? How about 7?!) 
So before you rationalize passing on video marketing, take a peak at these numbers: 
95%

of viewers retain information presented in video format

84%

of consumers purchase after watching a brand's video

72%

of buyers agree that they learn more about a company by watching a video

48% of video posts have higher views on social media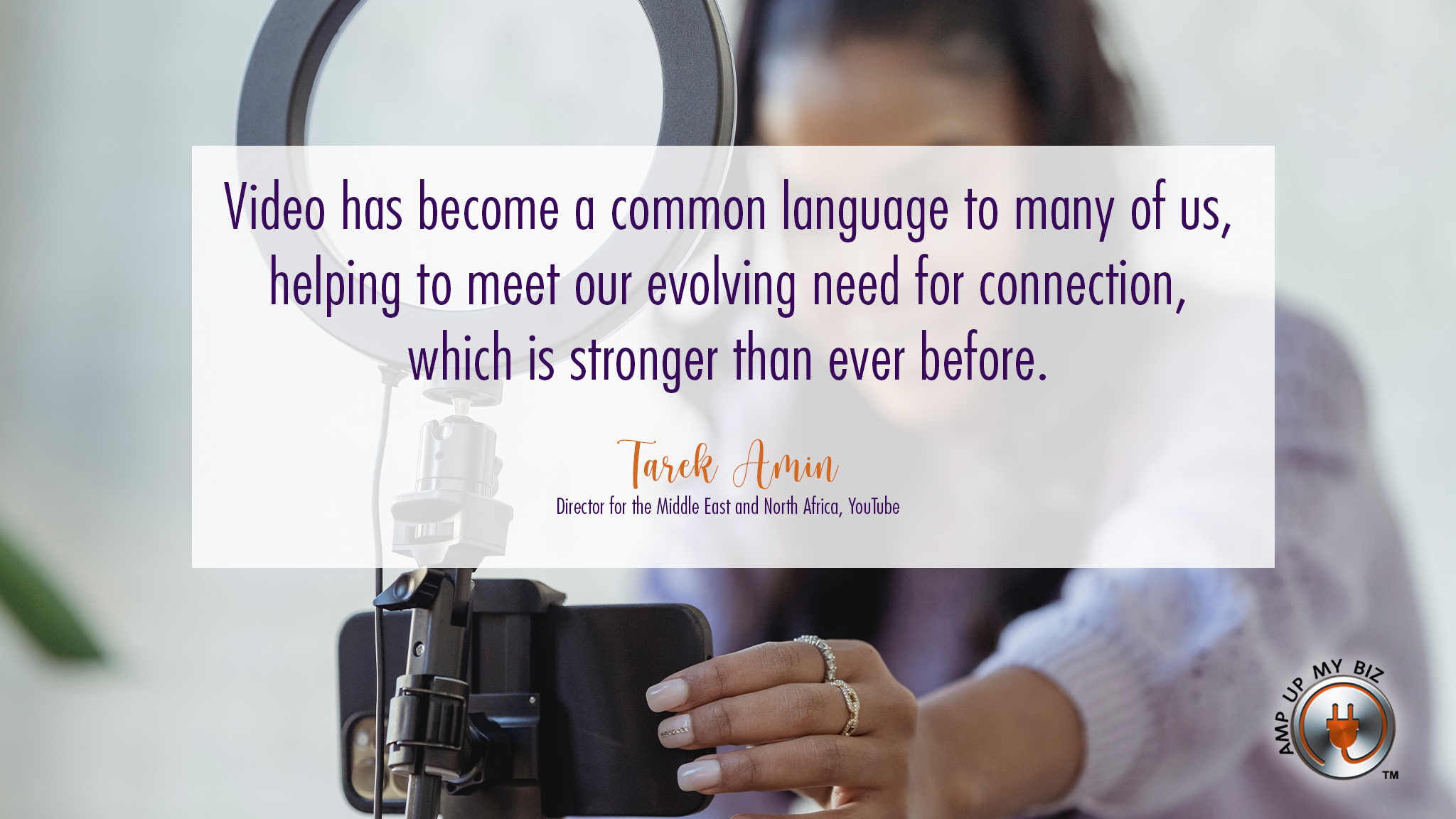 Human connection is still important in this digital age. We always feel more confident in our buying decisions when a real person answers our questions about a brand's products or services. So when we rely on still images and graphics to deliver our message, we're losing that sense of human connection our ideal clients so desperately crave. 
Sure you can post an intriguing cover photo of a book, a beautiful image of handmade jewelry, or a cool snapshot of your latest adventure, but with the millions of images uploaded every day, does it really stand out?  Will your potential client form a connection with you or will they likely just keep scrolling?
Now, what if that had been an interesting video with an engaging person in it? That's a whole new world, right?
This is especially important for service based companies because YOU are a part of your brand! Effective marketing requires authenticity and there's no better medium for creating authenticity than video. That's why it's so important that you find the confidence to get in front of the camera and let your incredible personality shine! No one is as you, as YOU.
4 Ways to Feel More Confident on Video
Check Your Appearance 
First and foremost, dress well for the camera! Solid, saturated colors are typically best, but see what works for you.  Your best look may be business attire or a very casual flannel shirt and jeans. Either way, you should feel 100% comfortable in that outfit. If you look great on the outside, you'll feel amazing on the inside! I know it's cliche, but it's true!  You exude confidence when you look good and it comes through in your posture, energy, and attitude on camera.

Hair and make-up please.  If you wear make-up…or even if you don't in your day-to-day…remember that the camera only shows you in two dimensions.  So, of course be authentically who you are, but do a test to see how your hair and make-up read on camera.
Mindset Matters
Maintain a positive mindset around creating video content. It's easy to get bogged down by worrying about technical issues, unplanned interruptions, or the ever dreaded:

What if I say the wrong thing

? The reality is that you can't control everything, but you can control your mindset. Whatever happens, you're in control of yourself and how you handle anything the universe throws at you while you're on camera. And if you stay positive and focused on your message it will all be okay. YES! Even when you're live. You've GOT THIS!
Prioritize Your Audience
When you're on camera, take the focus off yourself! You've already checked your outfit, your hair, your make-up, and your mindset.  Now it's time to shift your attention to your audience. Make the video all about them. You are only there to deliver a message that they want to hear and give them a solution to their current dilemma. 

Let your viewers know that they are part of the conversation and that their wins, failures, celebrations and challenges matter to you. You're there for them.

Speak to ONE.  And that one is your ICA (ideal client avatar).  In most cases, there is one person watching that social media video.  Speak directly to them.  No more of this "hello everybody" stuff.  It diffuses your connection with the person watching your video.
Focus on the Message
Above everything else, remember your core mission – YOUR 'WHY'. Focus on your brand's message and how it serves your ideal client. This makes it easier to shake off the jitters and turn it into excitement about the opportunity to change a person's life with your incredible products and services.

Be your authentic self when you're delivering your message via video. People are drawn to genuine people! If you're a little quirky with a love for plants, don't be afraid to be the fun plant lady in your videos! This helps you stand out in a crowded online space.  
Build Confidence with Consistent Practice
Now that I've shared a few of my ninja secrets for creating confidence on camera, get ready for the mother of all ninja secrets… 
Are you ready?  
Okay! Here it comes—GET ON CAMERA AND DO IT!
That's right!  The not-so-secret secret to creating effective video content is PRACTICE!  The more you practice the more comfortable you will feel.  The more comfortable you feel the more confidence you'll exude, and that's when the magic happens! Stop faffing about and hit record.
Did you do it?  Are you recording?
No? Still not quite ready for the world to see your on-camera charisma?  
Then practice on Zoom! Join groups that meet via Zoom and participate with your camera ON. This gives you an opportunity to get over the mental hurdle of being camera shy. The best part is…it's LIVE! This means it's great practice for your own lives, AND then, creating prerecorded messages with an unlimited number of takes to get it right will feel easy-breezy Cover Girl after logging hours of live Zoom camera time. 
You can even join us at one of our Zoom events—Social Happy Hour!
This is a monthly meet-up of like-minded entrepreneurs with a passion for online marketing.  We connect, talk social media marketing, and enjoy a beverage together. (Even if it's water!)
You can register here: HappyHour.AmpUpMyBiz.com