Meet IGTV, Instagram's New Long-Form Video Tool!
The now 1 bil­lion users strong social plat­form, Insta­gram, has a new fea­ture that may take large pieces of YouTube's pie. On June 20th, 2018 Insta­gram announced the launch of IGTV. IGTV allows cre­ators to upload and share videos up to an hour in length, users cre­ate their own chan­nels, and Insta­gram plans to let cre­ators mon­e­tize their chan­nels in the future. This excit­ing new fea­ture of the Insta­gram expe­ri­ence cre­ates oppor­tu­ni­ty for busi­ness­es, how can IGTV help grow your brand?
Kevin Sys­trom, CEO of Insta­gram, on stage at the June 20th launch event in San Fran­cis­co stat­ed "It's time for video to move for­ward and evolve." IGTV videos are opti­mized for mobile view­ers by play­ing videos in a ver­ti­cal for­mat and is acces­si­ble in the Insta­gram app and as a stand­alone IGTV app for both iPhone and Android users.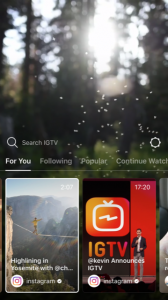 Unlike pre­vi­ous Insta­gram video fea­tures, where length was lim­it­ed to 1 minute or less, IGTV videos can be up to 1 hour in length. Allow­ing for longer videos gives cre­ators more free­dom and means a lot more time can be spent con­sum­ing con­tent and keep­ing users in the app. There are cur­rent­ly no ads in IGTV but Sys­trom says that down the road they'd like to help cre­ators mon­e­tize IGTV and that they rec­og­nize the pre­mi­um oppor­tu­ni­ty for ads in IGTV. View­ers can com­ment on, heart, and even share IGTV videos with oth­er Insta­gram users. In IGTV you can browse videos cat­e­go­rized in tags labeled "For You" includ­ing videos Insta­gram believes you'll enjoy, "Fol­low­ing" show­ing videos from cre­ators you fol­low in Insta­gram, "Popular" which is trend­ing videos, and "Con­tin­ue Watch­ing" where you can watch videos you've pre­vi­ous­ly start­ed. There is also a search bar where users can search for creator's chan­nels, cur­rent­ly hash­tag search is not includ­ed in this search tool.
If you're already on Insta­gram you can eas­i­ly cre­ate your IGTV chan­nel sim­ply by click­ing the new IGTV logo, a tv with a line through it, in your Insta­gram app in the top right cor­ner of the news­feed tab or by down­load­ing the IGTV app. Click to cre­ate a chan­nel and then you're ready to start post­ing con­tent! Con­tent is made in advance and then uploaded, cur­rent­ly video can­not be shot in IGTV itself.
As Insta­gram is now up to 1 bil­lion users IGTV has a huge oppor­tu­ni­ty for growth and gives mar­keters a huge oppor­tu­ni­ty too! With IGTV brands and busi­ness­es can show­case more about them­selves and cap­ti­vate their audi­ences for longer peri­ods of time. Imag­ine a spa allow­ing you to watch a full treat­ment as they explain the ben­e­fits, or watch­ing a full-length inter­view in Insta­gram. IGTV videos can also be shared to a con­nect­ed Face­book page when post­ing allow­ing the con­tent to go even far­ther. Cre­ators can also include links in video descrip­tions to out of app web­sites. (As you know, you still can't put links in your IG posts, but you can on your IGTV videos.)
Videos have been a grow­ing trend in social media for some time now, so if you're not cre­at­ing video con­tent yet it's time to start! Video con­tent allows your audi­ence to get to know your brand bet­ter and if your con­tent is engag­ing enough they'll keep com­ing back for more!
We'd love to hear your com­ments and ques­tions below!
As always, if you need help with any of your online mar­ket­ing, we're just a click away.